Podcast: Play in new window | Download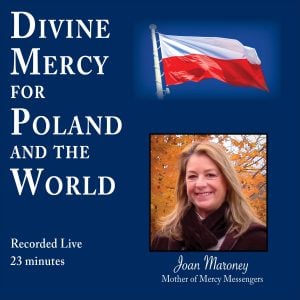 Divine Mercy for Poland and the World
Joan Maroney
In 1932 the Penal Code in Poland was loosened to allow for abortion in certain cases opening the door for Warsaw to become the abortion capital of Eastern Europe between World War I and II. How could that have happened? What effect did the war and subsequent communist rule have on the country and where is she today in regards to the issue? In 22 riveting minutes, Joan Maroney relates the fascinating story of perhaps the most Catholic country in the world and her journey through darkness to light. The writings of Saint Faustina Kowalska concerning this 'most grievous crime' are examined as well as the effects of devotion to Jesus, The Divine Mercy.
As founders and directors of Mother of Mercy Messengers, an apostolate of the Marian Fathers, Dave and Joan Maroney have taken the message emanating from the National Shrine of The Divine Mercy in Stockbridge, Massachusetts to parishes, schools, and conferences across the United States and beyond since 1999.
All along the way they have taught and prayed the Chaplet of Mercy as presented in this live recording. This prayer was given by Jesus in 1935 to a young Polish nun, now Saint Maria Faustina Kowalska, as documented in her Diary, "Divine Mercy in My Soul," passages 474-476.
In 2012 Dave and Joan launched the Divine Mercy for America Campaign and Network to encourage people to pray for countries as the Lord instructed St. Faustina. Visit divinemercyforamerica.org to sign up and learn more.
This audio file was recorded, mixed, and mastered by Dave Maroney, 22 min and 35 sec, 27 MB. Copyright Dave & Joan Maroney, permission granted to download, make copies, share, and use in a private or public setting where no admission fee is collected. Contact Dave for usage questions at maroney.dave@gmail.com.
To download this file click on the download link at the top of this page
Visit the Audio Page at divinemercyforamerica.org for other great recordings.
Visit http://divinemercyforamerica.org/ to learn more. Click on the Membership tab to sign up to receive our newsletter.
Contact:
maroney.dave@gmail.com
text 361-549-3702