Hail, Holy Queen, Mother of Mercy, our life, our sweetness, and our hope… These are the beginning lines of one of the most familiar Marian prayers in the Church, the Salve Regina, or Hail Holy Queen. They very quickly state the stature and importance of the Blessed Mother in our lives and in the Church, where Christians learn the example of holiness and recognize its model and source as the Mother of God, the Queen of Heaven as its source. (Catechism of the Catholic Church 2030)
The more I imitate the Mother of God, the more deeply I get to know God.  —  Saint Maria Faustina, Diary entry 843
Saint Faustina recorded many mystical experiences with the Mother of God who taught her how to love God interiorly and how to carry out His holy will in all things. May we also come to better know the love of God by learning from our Lady and growing in devotion to her. Let us implore and be strengthened by her intercessions. The Mother of God, our heavenly Mother, desires nothing more:
I am Mother to you all, thanks to the unfathomable mercy of God. Most pleasing to Me is that soul which faithfully carries out the will of God. (Diary, 449)
Instruction from the Blessed Mother
The Church holds that Mary of Nazareth, the Mother of Jesus the Christ, was conceived "full of grace", free from original sin from the first moment of her existence. Henceforth, her life would be completely guided by the Divine Will of the Father, which Mary embraced both in times of joy and sorrow. She accepted all that had to occur in the Lord's plan of redemption, and our good Mother encourages us to do the same, for this is most pleasing to God:
I remained alone with the Most Holy Mother who instructed me about the will of God and how to apply it to my life, submitting completely to His most holy decrees. It is impossible for one to please God without obeying His holy will. "My daughter, I strongly recommend that you faithfully fulfill all God's wishes, for that is most pleasing in His holy eyes. I very much desire that you distinguish yourself in this faithfulness in accomplishing God's will. Put the will of God before all sacrifices and holocausts." While the heavenly Mother was talking to me, a deep understanding of this will of God was entering my soul. (1244)
Submitting to the will of God is often not an easy task, especially in times of trial. But, we can learn from the Woman who walked to Calvary with Jesus about the virtues that will help us:
"I desire, My dearly beloved daughter, that you practice the three virtues that are dearest to Me – and most pleasing to God. The first is humility, humility, and once again humility; the second virtue, purity; the third virtue, love of God. As My daughter, you must especially radiate with these virtues." When the conversation ended, She pressed me to Her Heart and disappeared. When I regained the use of my senses, my heart became so wonderfully attracted to these virtues; and I practice them faithfully. They are as though engraved in my heart. (1415)
Humility, purity, and love of God are the three virtues we must radiate as we strive to imitate the example of the Immaculate One. But it is clearly humility that is most important as it enables all other virtues to flower since it is the virtue that overcomes the root of all sin, which is pride:
When I was left alone with the Blessed Virgin, She instructed me concerning the interior life. She said, "The soul's true greatness is in loving God and in humbling oneself in His essence, completely forgetting oneself and believing oneself to be nothing, because the Lord is great, but He is well-pleased only with the humble, He always opposes the proud." (1711)
The Blessed Mother herself lived this message:
Know, My daughter, that although I was raised to the dignity of Mother of God, seven swords of pain pierced My heart. Don't do anything to defend yourself; bear everything with humility; God Himself will defend you. (786)
The Blessed Mother's Intercession – Especially for Our Country
During the renewal of her vows in 1929, St. Faustina received a special gift she had been praying for through the intercession of the Blessed Mother for many years, namely freedom from all temptations against the sin of impurity. After that time, St. Faustina never experienced any attacks against this virtue either in her heart or in her mind.
"Ask My Mother and the Saints for help." (1560)
Christ himself instructs us to ask our Holy Mother for help, not only for our spiritual needs but for the needs of the world and her children everywhere. Early in her Diary, Jesus directs to seek His Mother's intercession for Poland:
"Go to the Superior and ask her to allow you to make a daily hour of adoration for nine days. During this adoration try to unite yourself in prayer with My Mother. Pray with all your heart in union with Mary, and try also during this time to make the Way of the Cross." I received the permission, though not for a full hour, but only for whatever time was left me after I had carried out my duties. I was to make this novena for the intention of my Motherland. On the seventh day of the novena I saw, between heaven and earth, the Mother of God, clothed in a bright robe. She was praying with Her hands folded on Her bosom, Her eyes fixed on Heaven. From Her Heart issued forth fiery rays, some of which were turned toward Heaven while the others were covering our country. (32, 33)
Our Lady prays for us with fiery rays coming from her heart; amazing imagery of passion and love. In Diary passage 325 St. Faustina is called to have this same passion. Our Lady comes to her echoing words heard in apparitions from around the world throughout the centuries – prayer, prayer, prayer:
1934 [year]. On the day of the Assumption of the Mother of God, I did not assist at Holy Mass. The woman doctor did not allow me; but I prayed fervently in my cell. After a short time, I saw the Mother of God, unspeakably beautiful. She said to me, "My daughter, what I demand from you is prayer, prayer, and once again prayer, for the world and especially for your country. For nine days receive Holy Communion in atonement and unite yourself closely to the Holy Sacrifice of the Mass. During these nine days you will stand before God as an offering; always and everywhere, at all times and places, day or night, whenever you wake up, pray in the spirit. In spirit, one can always remain in prayer." (325)
So great were the needs of her country that the Blessed Mother even told St. Faustina to offer the Lord the precious gifts of her vows:
The day of the renewal of vows. At the beginning of Holy Mass, I saw Jesus in the usual way. He blessed us and then entered the tabernacle. Then I saw the Mother of God in a white garment and blue mantle, with Her head uncovered. She approached me from the altar, touched me with Her hands and covered me with Her mantle, saying, "Offer these vows for Poland. Pray for her." This was on August fifteen. (468)
May the following passages serve to dispel any doubt about the power and need for Our Lady's intercession and whole-heartedly increase our gratitude, love, and devotion to the Mother of God:
September. First Friday. In the evening, I saw the Mother of God, with Her breast bared and pierced with a sword. She was shedding bitter tears and shielding us against God's terrible punishment. God wants to inflict terrible punishment on us, but He cannot because the Mother of God is shielding us. Horrible fear seized my soul. I kept praying incessantly for Poland, for my dear Poland, which is so lacking in gratitude for the Mother of God. If it were not for the Mother of God, all our efforts would be of little use. I intensified my prayers and sacrifices for our dear native land. (686)

September 1, 1937. I saw the Lord Jesus, like a king in great majesty, looking down upon our earth with great severity; but because of His Mother's intercession He prolonged the time of His mercy. (1261)
Devotional Practices – Showing our Gratitude and Homage to the Mother of God
"Oh, how very pleased I am with the homage of your love!" (1244)
The Holy Rosary
What good mother doesn't love it when their children pray with them? The daily recitation of the Holy Rosary can be seen as our daily time with Mary. The rosary in hand is as if holding her hand. Hand in hand we travel together, each bead of the decade is another step through the life of Christ. Prayerful recitation of the Holy Rosary comes attached with many great promises. Read more.
A Novena of One Thousand Aves a Day
Saint Faustina's deep love and devotion inspired her to present a special novena to the Mother of God. At least three times in her life she prayerfully recited one thousand Aves a day, for nine days in a row. This is indeed a remarkable feat, but as St. Faustina say's, "Nothing is too much when it comes to honoring the Immaculate Virgin."
This is now the third time I have said such a novena to the Mother of God; that is, a novena made up of a thousand Aves each day. Thus the novena consists in nine thousand salutations. Although I have done this now three times in my life, and two of these while in the course of my duties, I have never failed in carrying out my tasks with the greatest exactitude. I have always said the novena outside the time of my exercises; that is to say, I have not said the Aves during Holy Mass or Benediction. Once, I made the novena while lying ill in the hospital. Where there's a will, there's a way. Apart from recreation, I have only prayed and worked. I have not said a single unnecessary word during these days. Although I must admit that such a matter requires a good deal of attention and effort, nothing is too much when it comes to honoring the Immaculate Virgin. (1413)
Consecration to the Immaculate Heart of Mary
There are many ways to show respect and honor to our Lady such as revering her images, remembering her special feast days, and praying the Holy Rosary. The premier way to confirm our devotion to the Blessed Mother is by making a thirty-three-day preparation to consecration to her Immaculate Heart. This method has been popular for centuries in the Church and consists of daily reading, reflection, and prayer leading to the formal consecration on the final day. A short daily consecration prayer may then be used to help us keep close to our Lady's heart.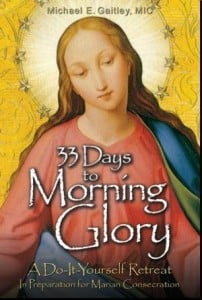 Two highly recommended consecration resources are the traditional 'To Jesus through Mary According to St. Louis de Montfort and the popular 33 Days to Morning Glory by Fr. Michael Gaitley, MIC. Visit My Consecration to learn about the different programs.
The Feast of the Immaculate Conception. Before Holy Communion I saw the Blessed Mother inconceivably beautiful. Smiling at me She said to me, "My daughter, at God's command I am to be, in a special and exclusive way your Mother; but I desire that you, too, in a special way, be My child." (1414)
Become an evermore devoted child of the Blessed Virgin Mary and become an evermore powerful apostle of The Divine Mercy.
Continue to the next article in the Divine Mercy for America Action Plan – Devotion to the Most Holy Eucharist
All references to Diary: Diary of St. Maria Faustina Kowalska: Divine Mercy in My Soul © 1987 Congregation of Marian Fathers of the Immaculate Conception of the B.V.M, Stockbridge, MA 01263. All rights reserved. www.marian.org