Happy New Year!  Advent is here and with it a new liturgical year – which begins, or should, with a season of prayer and penance in expectation of the coming of the Lord.  This is a special time of grace. Let's spend it with greater vigor and expectation than ever before and tie it all up with a bow of TRUST.
Jesus told Saint Faustina:
The more a soul trusts, the more it will receive. Souls that trust boundlessly are a great comfort to Me, because I pour all the treasures of My grace into them. I rejoice that they ask for much, because it is My desire to give much, very much. On the other hand, I am sad when a soul asks for little, when they narrow their hearts.

Diary of St. Faustina, 1578
We can bring joy to the Lord by asking for much, so let's not be shy. Begin by making sure your Christmas list is in proper order with the best gift ideas possible for your family and friends.  We're not talking about the stuff you can buy at the ubiquitous malls or on-line. We're talking about helping them obtain the best of gifts – Christ's presence in their lives in an ever more profound and real way. The way we spend our Advent is one key to making this happen for them.
Here are a few ideas to help you, and them, have the best Christmas ever. Don't just read through this list. Do it!
Ways to Make this Advent Blessed for America
A dore the Lord daily, in the monstrance, tabernacle, or soul
D onate to the poor and worthy causes
V enerate the Image of The Divine Mercy often
E xpect miracles, and keep praying for them
N ovenas for America – begin today
T ake time to rest in silence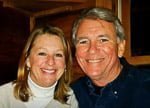 God bless you and God bless America!
Joan and Dave Maroney
Mother of Mercy Messengers
Divine Mercy for America