Podcast: Play in new window | Download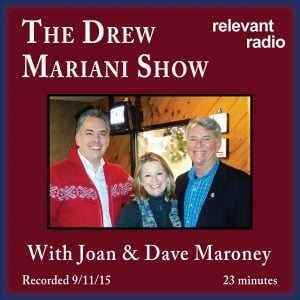 Dave and Joan Maroney on the Drew Mariani Show
Relevant Radio, September 11, 2015
Enter into a 'fascinating conversation' with Dave and Joan Maroney and Drew Mariani. Topics include the upcoming 80th anniversary of the Chaplet of Mercy, the relationship between Poland, the Chaplet and abortion, the Divine Mercy for America prayer campaign and more.
Visit Relevant Radio to tune in to Drew and much more.
This audio file is copyrighted by Relevant Radio. You can download it and listen to it in a private setting. Please contact Relevant Radio for permission to use in other ways. 23 minutes 30 seconds. 13.3 MB
As founders and directors of Mother of Mercy Messengers, an apostolate of the Marian Fathers, Dave and Joan Maroney have taken the message emanating from the National Shrine of The Divine Mercy in Stockbridge, Massachusetts to parishes, schools, and conferences across the United States and beyond since 1999.
In 2012 Dave and Joan launched the Divine Mercy for America Campaign and Network to encourage people to pray for countries as the Lord instructed St. Faustina.
Visit divinemercyforamerica.org to sign up and learn more.
To download this file click on the download link at the top of this page.
Contact:
maroney.dave@gmail.com
text 361-549-3702