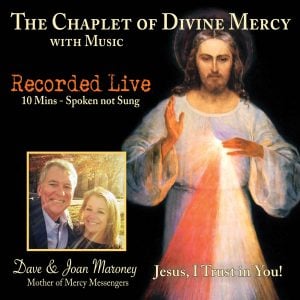 Many years ago we made a live recording of the recitation of the Chaplet of Mercy accompanied by beautiful background music, an arrangement composed by our friend Fr. Jim McKearney, PSS, STD. We set it to graphics and posted it on YouTube. It now has over 1million hits from all over the world, even places like Saudia Arabia, Iraq and South Korea. We consistently receive wonderful heartfelt comments about the beauty of this version. Here are a few examples:
"I have been turning to this particular video for about a year. I am so impressed with every detail . . . WOW! The music, the way the prayer is said, every bit of it. I highly recommend it. Thank you for one of the BEST Divine Mercy vid's ever!"

"Thank you for recording this prayer recited so beautifully. I've been saying my daily chaplet with you all for years! It has brought me such peace and comfort throughout the trials of my daily life."

"I absolutely LOVE this Chaplet of Divine Mercy so calming, prayerful and peaceful. Thank-you so much."
And, how about this one – our favorite comment:
"I use this with my 5th-grade students when teaching them the chaplet. We pray it together once a week using this video. Thank you so much for sharing!!! It is the best I have found to use in my classroom!!!!!"
Others appreciate that it is a spoken version rather than sung, which is a rare find and much appreciated by those who don't have the time or the desire to sing it.
"Thank you because I am able to say the chaplet as I work, I do not have to leave my desk. It is a beautiful presentation. God bless."
FANTASTIC, right?  However, since the original release nine years ago, you may remember that the Creed has been modified, so a new recording was needed.
Thanks be to God, we were able to capture a good one on September 14, 2015, exactly 80 years to the day that St. Faustina received the prayer from Jesus. And get this. We were praying during Eucharistic Adoration after a presentation on the Feast of the Exaltation of the Cross at Most Precious Blood Catholic Church in Corpus Christi, Texas. How appropriate is that!
Since then we have been working diligently on mixing and mastering the file, but the lion share of the work has been registering and publishing it in the digital world so that it is available in ALL the online audio outlets, such as Spotify, Pandora, Rhapsody, and on and on. . .
So, what does that mean? What that means is that now it is almost instantly accessible to millions and millions of souls worldwide. And, not only that. It also means that whenever anyone plays it, Divine Mercy for America (DMA) will receive a royalty!
Purchase, Stream or Download – You Decide
Purchase and Download
Purchase the audio file for download on our store at CDBaby. Once you download the file you can copy it to all your devices and email it to your friends and family. Your $0.99 purchase will help us keep the lights on. Thank you!  Click here.
Download for Free
We want to share our Chaplet as much as we can. The exact same file that can be purchased at CDBaby can be downloaded for free at SoundCloud. Whether you effectively make a donation by purchasing or download it at no cost feel free to make copies and share as you like.  Click here.
Stream it on Spotify, Pandora, etc!
Simply log on to your favorite service and search for 'Chaplet of Mercy with Music.' Many have told us how helpful it is to listen to the audio as they pray. Couple that with the convenience of streaming on your favorite device and we believe more and more will be praying the Chaplet worldwide. An added benefit is that DMA will receive a small portion of revenue every time it is streamed. The revenue comes from the fee paid for the streaming service or the advertisements. Every little bit helps!