Podcast: Play in new window | Download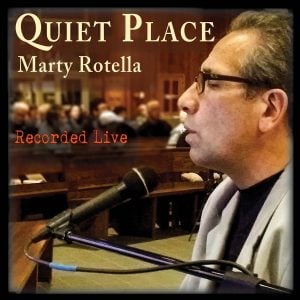 Quiet Place
Marty Rotella
Catholic singer/songwriter Marty Rotella is the best. Not only does he have an awesome singing ministry but is also outstanding as a conference speaker, retreat leader and emcee. Put him in front of youth or young adults and watch God's grace come shining through. Visit his website at https://stewardshipmission.org/ministries/spirit-power/ or contact him at [email protected] or 844-722-3306.
Recorded at St. Henry Roman Catholic Church, Bayonne, NJ, Friday August 7, 2015
Recorded, mixed and mastered by Dave Maroney, "Marty Rotella is one of my dearest friends and is an amazing guy. A prolific writer of Christian music, dynamic speaker, personal witness, he's a busy guy. He is the Frank Sinatra of Catholic music and I mean that in the most positive way possible. Whenever we are in the New Jersey area he comes out if he can and sings before, during and after our presentation. Here he is doing exactly that with one of his most popular songs. This happens to be at the church where his parents were married. God bless you Marty, hope to see you soon!"
To download this file click on the download button at the top of this page.
Visit the mobile-friendly Divine Mercy for America Audio page at divinemercyforamerica.org/audio for this and other great recordings.
As founders and directors of Mother of Mercy Messengers, an apostolate of the Marian Fathers, Dave and Joan Maroney have taken the message emanating from the National Shrine of The Divine Mercy in Stockbridge, Massachusetts to parishes, schools, and conferences across the United States and beyond since 1999.
In 2012, they launched the Divine Mercy for America Campaign to build a network and movement of faith-filled Americans equipped with an action plan to fight for souls country the way Heaven taught St. Faustina to do for her native land. Visit divinemercyforamerica.org to sign up and learn more.
Visit divinemercyforamerica.org/ to learn more.
Contact: [email protected]
text 361-549-3702