Podcast: Play in new window | Download
Pray the Chaplet of Mercy with Music – Spoken not Sung – 10 Minutes
Pray along with the audio Chaplet on your favorite device!
Available on Spotify, Amazon Music, Apple Music, Google Play Music, iTunes, CDBaby, iHeartRadio, and more.
Search for "Chaplet of Mercy with Music by Dave & Joan Maroney".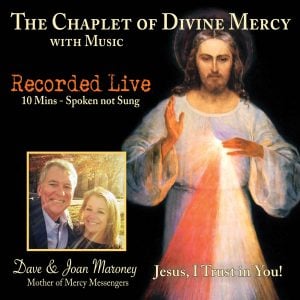 Pray the Chaplet of Mercy on Spotify!
Spotify is a music streaming service that you pay for. Click this button only if you have a Spotify account.
The Chaplet of Divine Mercy with Music
Dave & Joan Maroney – 10 minutes
To download the Chaplet of Divine Mercy click on the download link at the top of this page.
As founders and directors of Mother of Mercy Messengers, an apostolate of the Marian Fathers, Dave and Joan Maroney have taken the message emanating from the National Shrine of The Divine Mercy in Stockbridge, Massachusetts to parishes, schools, and conferences across the United States and beyond since 1999.
All along the way they have taught and prayed the Chaplet of Mercy as presented in this live recording. This prayer was given by Jesus in 1935 to a young Polish nun, now Saint Maria Faustina Kowalska, as documented in her Diary, "Divine Mercy in My Soul," passages 474-476.
The Lord made it clear that this prayer would be a source of great grace and blessings for our world, a world immersed in suffering and darkness, a world in need of atonement for its sins, a world in need of mercy.
We hope that you will join us often in the prayerful recitation of the chaplet as it comes attached with many powerful promises for ourselves and others. Jesus told St. Faustina:
"My daughter, encourage souls to say the chaplet which I have given you. It pleases Me to grant everything they ask of Me by saying the chaplet." (Diary, 1541)
"By saying the chaplet you are bringing humankind closer to me." (929)
"The souls that will say this chaplet will be embraced by My mercy during their lifetime and especially at the hour of their death." (754)
"Even if there were a sinner most hardened, if he were to recite this chaplet only once, he would receive grace from My infinite mercy." (687)
"When hardened sinners say it, I will fill their souls with peace, and the hour of their death will be a happy one." (1541)
"Say the chaplet I have taught you, and the storm will cease." (1731)
"Write that when they say this chaplet in the presence of the dying, I will stand between My Father and the dying person, not as the just Judge but as the merciful Savior." (1541)
"At the hour of their death, I defend as My own glory every soul that will say this chaplet; or when others say it for a dying person, the indulgence is the same. When this chaplet is said at the bedside of the dying person, God's anger is placated, unfathomable mercy envelops the soul, and the very depths of My tender mercy are moved for the sake of the sorrowful Passion of My Son." (811)
"Oh, what great graces I will grant to souls who say this chaplet." (848)
September 24, 2015, a celebration to commemorate the 80th anniversary of the Chaplet was held at Most Precious Blood Catholic Church in Corpus Christi, Texas. This audio file is the result of the recordings of that evening.
Background music "Psalm 22" by Reverend James L. McKearney, P.S.S., S.T.D., used and shared with permission. Mp3 download: go to soundcloud.com, search "Psalm 22 Chaplet Background".
Visit the Audio Page at divinemercyforamerica.org for other great recordings.
The Diary of Saint Maria Faustina Kowalska, "Divine Mercy in My Soul," copyright Marian Fathers of the Immaculate Conception, Stockbridge, MA, all rights reserved, www.marian.org. Visit the Marian Fathers excellent website thedivinemercy.org to learn more.
In 2012 Dave and Joan launched the Divine Mercy for America Campaign and Network to encourage people to pray for countries as the Lord instructed St. Faustina. Visit divinemercyforamerica.org to sign up and learn more.
Recorded, mixed, and mastered by Dave Maroney, 10 min and not a second more. Copyright Dave & Joan Maroney, permission granted to download, make copies, share, use in YouTube videos, and use in a private or public setting where no admission fee is collected. Click the Download button at the top of this page for the mp3 download. Find this track on soundcloud.com, search for "Chaplet of Mercy with Music".
Contact:
maroney.dave@gmail.com
text 361-549-3702