At the end of our morning prayer session over a cup of coffee on our back porch last Sunday, we received an excited call from a Divine Mercy devotee about a miracle that had just occurred in her family home back in Nigeria.  One of the amazing things about this call was that we had decided the day before to include a segment in our monthly newsletter called SHARED WITH US: Reports from team members across the country, but we were not going to feature a story until next month, unless we received a call or email within the next few days from someone out there.
Needless to say, when Patricia blurted out, "This needs to be shared with the world!" we immediately took it as a sign from the Holy  Spirit that this was something to be shared.  First a little history.
Shortly after the National Catholic Register published an article about the Divine Mercy for America Campaign early last year, we were contacted by Patricia Onyemeziem.  Patricia lives in the Baltimore area and belongs to a faithful Divine Mercy Cenacle.  She was all excited about the initiative and ordered one hundred Divine Mercy for America prayer cards to distribute to others.
Patricia was also enthusiastic about spreading the campaign in her native land of Nigeria.  We promised her that once we had the program on a roll here in the US, we would help her with a plan and graphics for Nigeria.  Since then we have been in touch with Bishop Martin Igwemezie Uzoukwu the Catholic Bishop of Minna Diocese and others from Nigeria who are excited about embracing the program.  In fact we are looking forward to meeting with Bishop Martin later this month at the World Apostolic Conference on Mercy in Bogota.  The Divine Mercy message and devotion is already strong in Nigeria thanks to the work of Bishop Martin and people like Patricia, and it is our hope and prayer that this campaign will help ignite and even stronger response.

But, back to the miracle.  Actually there are two.  The first has to do with a fire in her mother's home that morning back in Nigeria.  Patricia's mother was not there though as she had recently come to the states for some medical attention.  Back home a young niece and nephew of Patricia's were holding down the fort.  The electricity had gone out on Saturday evening, which I believe helped prompt the two young people to make their way to mass on Sunday morning.  While they were at church, a neighbor noticed flames coming from the home.  Help was called and the fire, which apparently was started by the television, was extinguished and no one was hurt.  But, the amazing thing was that everything in the area of the fire was completely consumed EXCEPT the crucifix which was sitting on top of the television and the rosary that was on a table nearby.  According to Patricia all at the site were amazed as all else had been burned completely.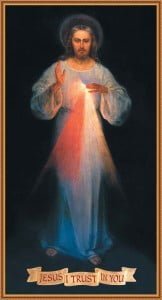 The second miracle has to do with the fire in Patricia's heart!  It was so amazing for us to hear her praising God for this miracle.  As an apostle of the Lord rather than taking clothing or school supplies back home to Nigeria on her visits, she takes bibles, and rosaries and information on The Divine Mercy.  She works bringing the message to children and their families.  Patricia felt like the Lord was giving her a big sign that He is pleased with her work by leaving unharmed her mother's greatest treasures.

The miracle is that rather than this woman being distraught over the fire in her mother's home, and about all the damage, she is elated with the blessings.  As Patricia said, "The fire could have begun in the night.  My niece and nephew could have been injured or died.  Instead, they were at Mass!"  Patricia certainly gets an A+ in this months Spiritual Challenge for our DMFA team taken from St. Faustina, Diary entry 1549,
  I will accept with submission and gratitude everything that God sends me.
Jesus I Trust in You!