T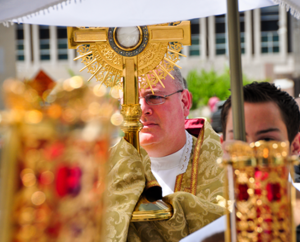 his Sunday, June 22, 2014 an incredible historic event will take place. In honor of the Feast of Corpus Christi a Eucharistic Procession will begin at St. Mary Cathedral and continue into the State of Texas Capitol Rotunda. Never in the history of our nation has the Blessed Sacrament been brought in Eucharistic Procession, with Benediction, into any state capitol. (Click to read more.)
With great faith in God's mercy we trust that this monumental event will be a source of great blessings for the State of Texas, all of it's inhabitants and beyond. Imagine what will be taking place that eyes cannot see. Saint Faustina gives us a little insight in her Diary, entry 441.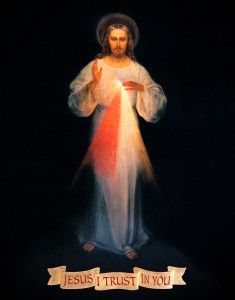 Feast of Corpus Christi – Poland, 1935
Once, the image was being exhibited over the altar during the Corpus Christi procession [June 20, 1935]. When the priest exposed the Blessed Sacrament, and the choir began to sing, the rays from the image pierced the Sacred Host and spread out all over the world. Then I heard these words: These rays of mercy will pass through you, just as they have passed through this Host, and they will go out through all the world. At these words, profound joy invaded my soul.
The Divine Mercy for America team feels privileged to have the opportunity to walk with Jesus into the State Capitol. We will also be distributing over 1,000 blessed images of Jesus, The Divine Mercy to be carried in the procession. The image of The Divine Mercy represents the Body and Blood of Jesus poured out for our salvation. What a great way to celebrate the Feast of Corpus Christi. What a great way for God to bless Texas and everywhere we "walk" with Him.
Share this good news and join us if you can. But, no matter where you are, try to participate in a Eucharistic Procession this weekend or spend time with Jesus in adoration whether He is exposed in the monstrance or hidden in the tabernacle. Or, if you can't do that, pray before His Sacred Image and ask the Lord to bless our country and to have mercy on us and the whole world.
God will bless Texas on the Feast of Corpus Christi! He will bless all who do whatever is within their power to spread devotion to His mercy. Join the Divine Mercy for America Campaign for the sanctification of our nation. You CAN make a difference!