March with Christ in the March for Life
Awesome picture, right?
But what (or who) is missing?
Wouldn't it be incredible to look out upon this crowd and see it dotted with images of the Divine Mercy and Our Lady of Guadalupe? With great trust in the Lord's promises we believe the impact would be tremendous and with your help, we can make it happen.
Introducing the March with Christ for Life initiative.
March with Christ for Life
Now available – 16 x 20-inch Double Sided Posters with the Divine Mercy on one side and Our Lady of Guadalupe on the other – 50 Posters for just $25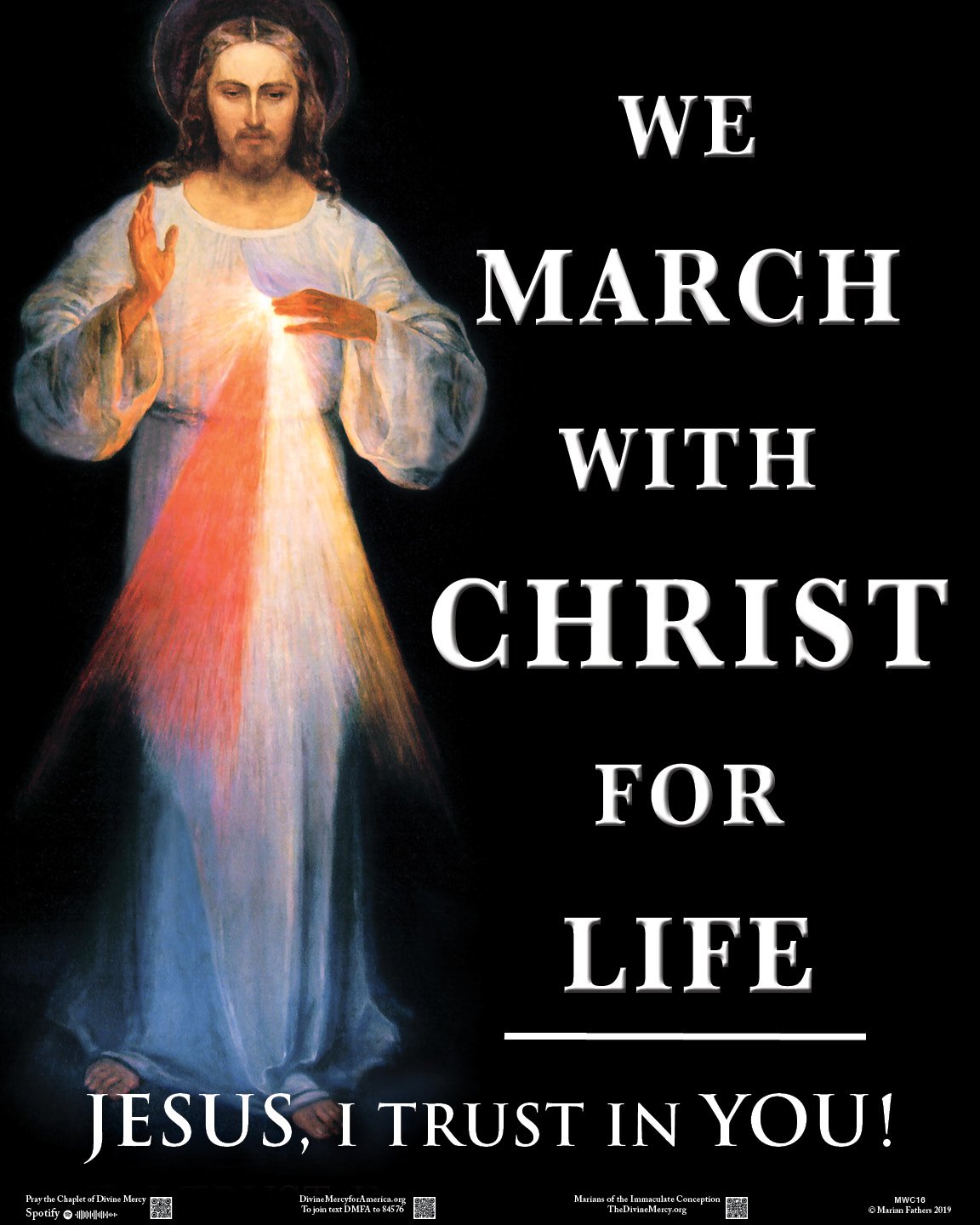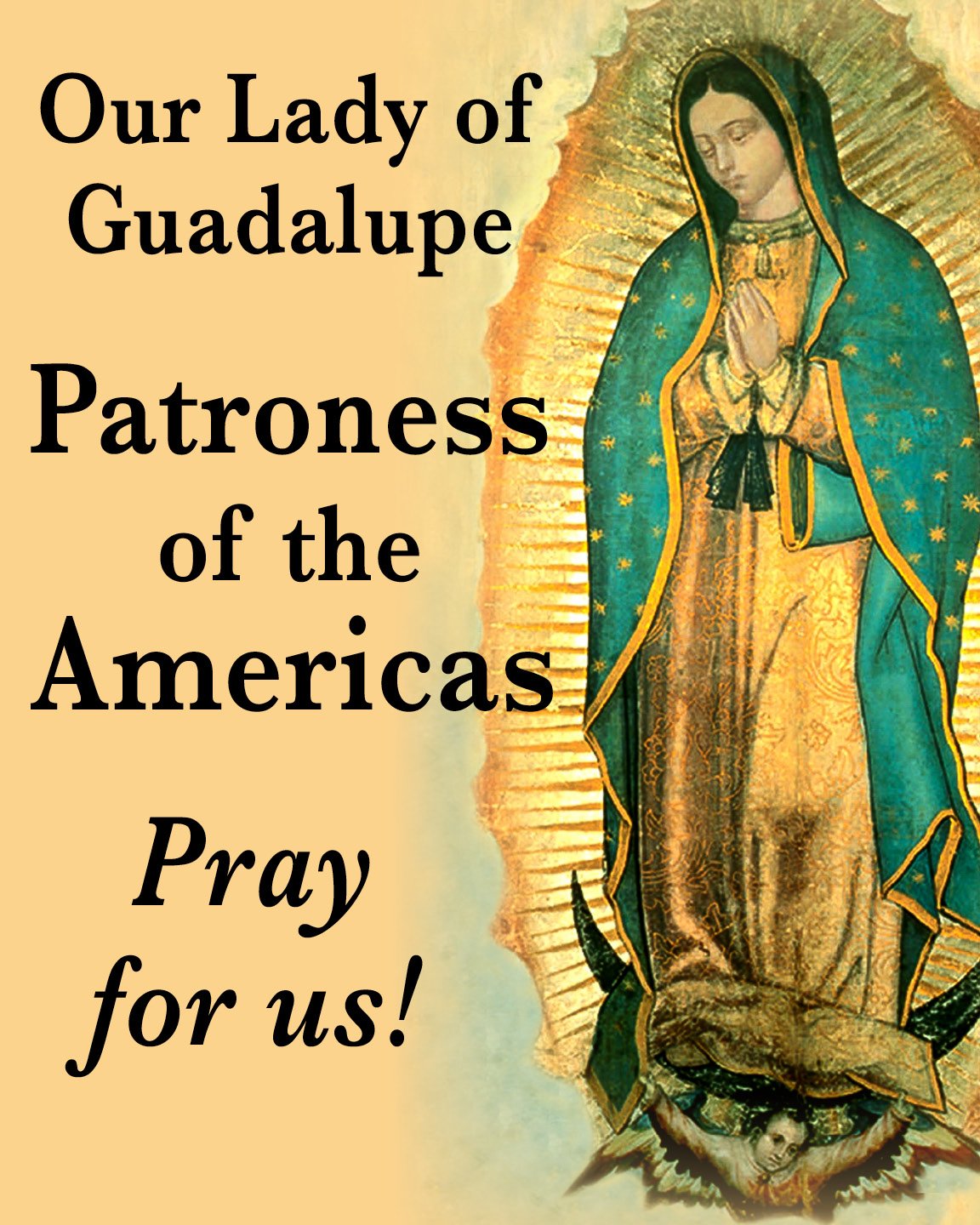 We will send 50 of these beautiful posters to anywhere in the country for a donation of just $25.00. That's right! For each increment of $25, you can outfit an entire bus of marchers going to DC or to any of the more than 70 marches taking place all across the USA in January.
Let's make the most of these upcoming opportunities to be a witness for life with the Lord and Our Lady. How much grace will flow! Click here to find out more information on the national March for Life in Washington and click here to find a march in your area.
If you can't make it to a march or know anyone who is going, you can still be a big help by making a donation in increments of $25 (or whatever you are able to send) to help us distribute posters to others.
How to Order Posters
Click on the donate button below, choose your amount in increments of $25 and type in the notation field something like:
"Please send 50 March with Christ posters to:
Your Name
123 Your Address
Your Town, NY 12345
and please use the additional $25 (or whatever amount) to help with the free distribution of posters to others."
If you have any questions, just drop us a line or note and we'll be happy to help. 830-634-7765, [email protected]
Orders for posters as well as donations may also be made by check mailed to:
Divine Mercy for America
PO Box 202
Center Point, TX 78010
Please include a note with your name, address, phone number and email address and instructions on where you would like the posters to be sent.
Ladies and gentlemen, it's time to pull out all the stops and to get Our Lord and Lady out there in a big way. We believe this initiative has the potential to dramatically impact our nation. Trust in the power of Jesus and ask Him for big things!
In 1931 Jesus appeared to St. Faustina and requested that this image of Him be painted and that it be venerated around the world. He told her:
By means of this Image I shall be granting many graces to souls; so, let every soul have access to it (Diary, 570).
We are working hard to let every soul have access to this image as Jesus instructed. The painting was completed in May of 1934 in Vilnius (then Poland, Now Lithuania) under the direction of St. Faustina and her spiritual director Blessed Fr. Michael Sopocko. The next year Bl. Michael was asked by the Bishop to preach at the closing ceremonies of the Jubilee of the Redemption in Vilnius. The ceremonies took place on the Weekend after Easter. St. Faustina wrote about how excited she was that the celebrations coincided with Divine Mercy Sunday of which Jesus had been instructing her about. Bl. Michael took the opportunity to have the painting on display so everyone could see it. This was the first time the image was publicly venerated and St. Faustina recorded the following miracle in her Diary:
The image came alive and the rays pierced the hearts of the people gathered there, but not all to the same degree. Some received more, some less. Great joy filled my soul to see the grace of God. (Diary, 417)
Take Action! Share this Information!
Copy and paste this link "divinemercyforamerica.org/march-with-christ" in an email and send it to your friends and to the Pro-life organizers at your parish and diocese. Share this blog to your Facebook using the button below.
And finally, will you pray that many hearts will be touched by the miraculous image of Jesus, the Divine Mercy.
We close with one of our favorite passages from the Diary of St. Faustina written just 4 months before her death.
Today I saw the glory of God which flows from the image. Many souls are receiving graces, although they do not speak of it openly. Even though it has met up with all sorts of vicissitudes, God is receiving glory because of it; and the efforts of Satan and of evil men are shattered and come to naught. In spite of Satan's anger, The Divine Mercy will triumph over the whole world and will be worshiped by all souls (Diary, 1789)
Come, Lord Jesus, Come!
Dave & Joan Maroney