How is your School Spirit?
School spirit clubs, chants, shirts, bows and clothes . . .  Cool.
But how is your school Spirit – uality?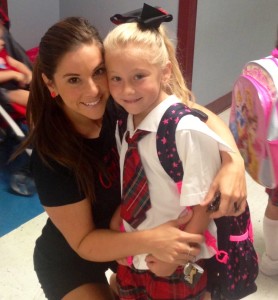 It won't be long till the kids are going back to school.  Each new school year brings with it much excitement and preparation and chances are there will be a lot of attention given to fostering school spirit. Students and parents too join clubs to cheer the kids on.  There are spirit cheers and chants to learn and yell, and spirit bows and clothes to buy and don.  Certainly having a healthy dose of enthusiasm for one's school is a good thing, but let's stop and take a moment to compare the plans and energy that are put into promoting school spirit to the time, energy, and money, yes money, that are put into developing the Spirit – uality of our students.
For example, are we as gun ho about making sure our kids have and are wearing miraculous medals or scapulars as we are about them having enough spirit shirts and things?   Do we lead and encourage them to participate in Holy Mass as much as we lead and encourage them to participate in cheering for the team?   Are we as disciplined and as well organized about getting them to monthly Confession as we are about getting them to weekly practice and games?
This just might be something to think about.  This just might be something to do something about.
Concerned with the soul as much as the "goal"?
If you or others you know are at least as concerned with the soul as with the "goal" here are some practical things you can do  to make sure Jesus goes back to school this year too.  Let's take a big step in garnishing Divine Mercy for America and the world by working together to improve the Spirit – uality of the students in our families, parishes and schools.   After all, "It is they who uphold the world" remember?
 10 Ways to Take Jesus Back to School
1)  Forward this Divine Mercy for Young Hearts You-Tube video of a church full of Catholic school children learning to pray the Chaplet of Mercy to anyone with kids or anyone who would just love to pray with kids. This version is recited rather than sung so it only takes about 10 minutes to complete. It also features the 14 Stations of the Cross helping to keep all engaged in meditating on the Passion while praying.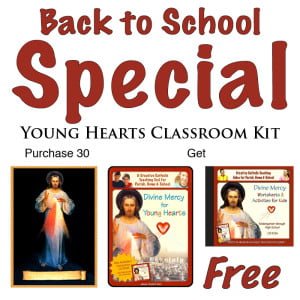 2)  Make sure every student receives their very own blessed image of The Divine Mercy. Reaching out to Catholic students opens windows that lead to their families. Click here for a download on the Promises of the Image that you can send home too.
3)  Purchase the Divine Mercy for Young Hearts Classroom Kit – on special sale this month for just $30 and  FREE shipping!
The kit contains 30 5 x 7 Divine Mercy Images in which the students write "Jesus I trust in You" on the bottom.  Kids of all ages love this activity!  In addition, receive the Divine Mercy for Young Hearts DVD (which includes the recitation of the Chaplet as mentioned above) and companion CD-ROM with over 100 unique activities for kids from kindergarten through high school ready to be printed as needed, absolutely free.  A $70 value for only $30, but worth millions!
Purchase a kit for each catechist or classroom in your parish religious education program and/or Catholic school. Ask each member of prayer groups or clubs to sponsor a kit until all classrooms have a set and all students are reached. Encourage the students to take their images home and display them in a special place.
4)  Frame and hang blessed Divine Mercy images in each classroom. You know the reasons why. Click here to order beautiful prints of the original image known as the Restored Vilnius Image.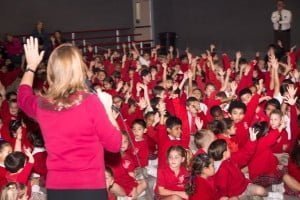 5)  Sponsor live MOMM presentations for a parish or school, or two or three or more. Sad to say, but many parishes and schools have little funding for special programs that help bring the faith to life. Sponsorships could open many doors and help us go where the message is most needed.  Click here  for this must see on how each program ends.  Contact us for details on how to plan an event for as little as $1.00 per student. Aren't our young people worth that investment?
6)  Ask your Catholic school and/or parish religious education program to become committed to praying for our country. For a school this could mean lifting up our country in morning prayers and school mass intentions. Several schools pray the Blood and Water prayer at the end of the day, a powerful prayer for the conversion of sinners. How cool is that? Parish religious education programs could also have students pray for the sanctification of our nation either at the beginning or end of each class. Classrooms could be decorated to help remind students and teachers of the obligation to pray for our country. The main thing is to harness the prayers of the children for their families, our country and world.
7)  Volunteer to teach in your parish religious education program or help with the youth group. Parishes are typically screaming for this kind of help. You can do it!!
8)  Offer to start, organize, or lead a Chaplet Club for the students. This works well in after school programs. Click here to read how students ask  Can We Stay and Pray?
9)  Make sure the school supply list includes a rosary. Better yet, have students or groups make red, white and blue mission rosaries for each student to use when praying the Rosary or Chaplet for our country.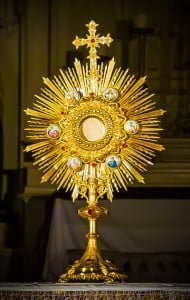 10) And, last but certainly not least, do whatever you can to make sure the youth in your parish or school are given time to spend with their very best and most important friend. Whether hidden in the tabernacle or exposed in the monstrance, the Lord of Mercy watches and waits for them. Give them the opportunity to receive His love, healing and grace.  The Lord tells us:
Behold, for you I have established a throne of mercy on earth — the tabernacle — and from this throne I desire to enter into your heart. I am not surrounded by a retinue or guards. You can come to me at any moment, at any time; I want to speak to you and desire to grant you grace ( Jesus to St. Faustina, Diary passage 1485).
Begin to make plans now for your students to take part in the 12th annual Worldwide Children's Eucharistic Holy Hour on or about October 3, 2014. Talk about a Spirit Booster!  Wow. You can do this in many different was. Check out the website mentioned here for a complete program that you can take and run with.
There, you have a bunch of ideas that we hope you find helpful. Please put at least one of them into action as you may be sure it will be a step in the positive direction toward the re-Christianization of our nation! God bless you, and God bless America!
Joan Maroney
Director & Presenter
Mother of Mercy Messengers