Podcast: Play in new window | Download

August 1, 2016
This month we enter into the final trimester of the Extraordinary Jubilee Year of Mercy. The holy year concludes November 20th, the Solemnity of Christ the King and the last Sunday of the liturgical year. As we move forward we would like to share some things that have been impressed upon our hearts quite strongly.
The first has to do with urgency and the importance of the time we have right now. Back in the 1930s, Saint Faustina wrote these words of Jesus:
I am prolonging the time of mercy for the sake of [sinners]. But woe to them if they do not recognize this time of My visitation (1160). Before the Day of Justice I am sending the Day of Mercy (1588). He who refuses to pass through the door of my mercy must pass through the door of My justice (1146).
Jesus speaks of doors of mercy and justice in a figurative way, but maybe not completely. During a Jubilee, physical doors are designated as "Holy Doors" at cathedrals and particular churches around the world through which one may enter and gain a plenary indulgence, a great gift of mercy which grants complete remission of all temporal punishment due for sin. It may be applied to oneself or for a holy soul in purgatory as often as one fulfills the requirements as outlined in Jubilee Year Plenary Indulgences.
In November, the Holy Doors will be closed. The liturgical year will end and with it the Extraordinary Jubilee Year of Mercy. On our doorstep will be Advent, a time of prayer and penance in expectation of the coming of the Lord. Also on our doorstep will be the year 2017 during which time we will celebrate the 100th anniversary of the apparitions of Our Lady in Fatima, Portugal who warned us, "Do not offend the Lord Jesus any longer, for the cup of iniquity is already overflowing."
So, between now and then we have a lot of issues on our plates. You know what they are. We don't need to hammer you over the head with all the things that are wrong, backward, crazy and evil. Rather, we want to share the second thing that has been impressed upon us, these words, "Now, of you, even more is required."
"Now, of you, even more is required." I keep "hearing" these words as issues arise both in my personal life and in society in particular our nation. I believe these words are for all of us who will hear them. I believe they are words that speak to the times we are in, especially in these last months of this Year of Mercy.
What do they mean and how do they direct us?  Well for me, "now" means now. Right now. Not tomorrow or next week or the end of summer vacation. We need to immediately respond to this time and call.
"Of you" means to look at ourselves first and foremost. This is about "me" not everyone else.
"Even more is required," acknowledges good work in the past, but that we need to max out right now. This does not necessarily mean more activity, such as more speaking engagements or creating more materials for Dave and I, (although that is needed too), but mainly it means even more holiness. More prayer, more contemplation. More patience. More fasting. More love. More service. More joy.
More sanctity.
Okay. So how do we do this while we are facing a wave of sinfulness and confusion that sometimes makes it very hard to know what to do or say, or not do or say? How can I keep my soul recollected and my spirit in peace?
The Divine Mercy Image Speaks  – We Must Listen to It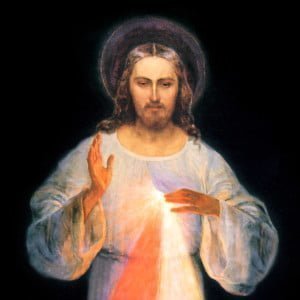 In 1931 Jesus asked that an image of him be painted as St. Faustina saw him. He said he wanted everyone to have access to it and for it to be venerated around the world for it would provide many graces to souls. Therefore, it must be important, don't you think? Yes, it is. Extremely. Every home, every parish, every hospital room, every office, every prison cell should have Jesus present by means of the veneration of His image. Through It grace flows. So have your Image blessed and in a place that you can turn to no matter what your need or struggle or joy. The ultimate plan is to have the Image enthroned in your home so that you and your family formally claim ground for Christ and acknowledge His presence. Let the grace flow.  Read more:  Enthroning the Divine Mercy
Christ speaks to our hearts through grace that pour from His image, but also through its iconography. Details in sacred art  have meaning. What does Jesus say to us through His Image? Here are just 5 important considerations that might help you in your quest for holiness in these crucial times:
1. The background is pitch black, representing the world around us. But, Jesus is stepping out of that darkness intent on reaching out to us. Stay focused on Him, not the darkness around Him. Follow His teachings, His example, His commandments. Obey His Word. Every word.
2.    Be open – really open. Receive the Lord's blessing extending from His right hand that pushes us onward with guidance, peace and strength. Trust in Him and live as you do. You can do it, especially if you follow points 3, 4 & 5.
3.    Bask in the rays of mercy. The red and pale rays signify healing and life pouring out from Christ to us and to all mankind through the Holy Spirit. The third trimester of the Jubilee Year I am personally dedicating to the third person of the Holy Trinity. We must call upon Him as Pope St. John Paul II did when he went to Poland in 1979 and oppression was lifted:  "Holy Spirit, renew this land. Holy Spirit, renew this land!" Click here to listen to an inspiring story:  Divine Mercy for Poland.
4.    The white ray also reminds us of the cleansing and strength received in the Sacrament of Reconciliation. Go to Confession. Go often. You will feel better and become a better person for it. You know it. So what, or who, is stopping you?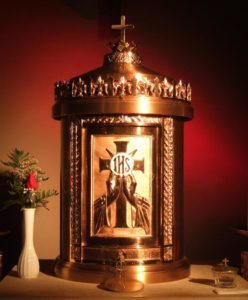 5.    The red ray signifies the shedding of Christ's blood for us, yet that our God is a living God and that He is truly present and in our midst particularly in the Holy Eucharist. He waits for us in the Tabernacles of every Catholic church and is present at every mass for us to completely absorb Him into our very being. What could be a greater gift? What else could be more important? Saint Faustina could not have said it any better than she did in her Diary,  entry 1037:
From the tabernacle I draw strength, power, courage and light. Here, I seek consolation in time of anguish. I would not know how to give glory to God if I did not have the Eucharist in my heart.
Come Holy Spirit.  Renew this land!
Come Holy Spirit.  Renew me!
Joan Maroney