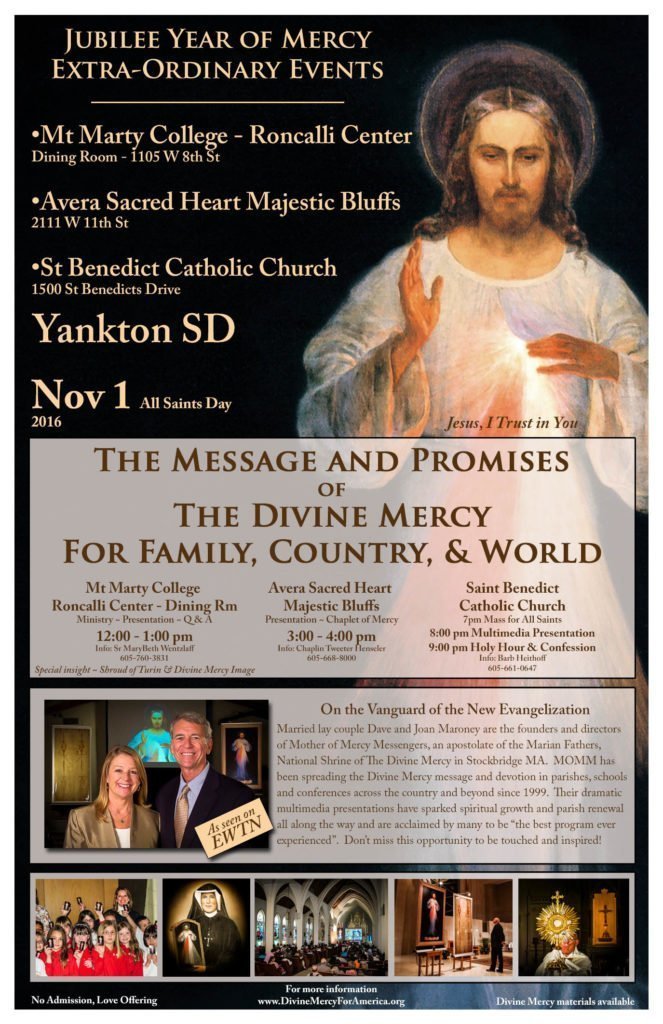 Mt Marty College Roncalli Center – Dining Room – 1105 W 8th St, Yankton

12PM –  A noon presentation on the correlation between the Shroud of Turin and the Divine Mercy Image along with time for questions and answers.
Info: Sr. MaryBeth Wentzlaff – 605-760-3831

Avera Sacred Heart Majestic Bluffs – 2111 W 11th St, Yankton

3PM – Join Dave and Joan Maroney at the hour of mercy, praying the Chaplet and with a presentation of mercy to the retirement community of Avera Sacred Heart. Open to the public.
Info: Chaplin Tweeter Henseler – 605-668-8000

St. Benedict Catholic Church – 1500 St Benedicts Drive

8PM – What a great day to come together and "contemplate the mystery of mercy" then All Saints Day! with a special evening presentation followed with a Holy Hour for our country, calling upon the communion of saints to pray with and for us.
Info: Barb Heithoff – 605-661-0647
Posters & Flyers: Click on image to view, download or print.
Devotional Materials before and after presentations.
Free-will offering event.
Jubilee Year of Mercy – December 8 – November 20, 2016
Interested in hosting a presentation at your parish in 2017? Contact us!
Jump in with MOMM by joining with our efforts this Jubilee Year of Mercy!