The DMFA team was busy in Texas putting prayer into action during the recent Fortnight for Freedom, two weeks of prayer called for by the USCCB between June 23 and July 4th for Religious Liberty.
Events were held at Holy Spirit Catholic Church in McAllen on Sunday, June 30 and at St. Anthony of Padua Catholic Church in Robstown on Tuesday, July 2.  The respective pastors Msgr. Louis Brum and Fr. Tony Blount, SOLT were very gracious in hosting these events in which about 300 joined.
The format began with a thought provoking one hour multimedia presentation on the connection between the revelations given to Saint Faustina just prior to World War II and how they relate to us today.  Of particular importance is the time and reason St. Faustina was given the Chaplet of Mercy.  Many are unaware of how it relates to the sin of abortion taking place in Warsaw in the 1930's. With a greater grasp of the need and power of our entreaties for our country, the next hour was spent in prayer before the Blessed Sacrament while a good number sought the grace and mercy of God in the Sacrament of Penance.  Benediction concluded both programs.
These were especially timely events in that they coincided with a heated battle going on in the Texas State Senate to pass a major abortion regulation law.  Divine Mercy for America brought a message of empowerment and hope.  It reminded everyone that prayers and sacrifices work.   It reminded all of the power of the promises of Jesus, The Divine Mercy and inspired them to put these things into practice for themselves, their families, our country and our world.   One hundred and twenty three (123) new members committed to participate in the campaign, bringing total membership to 1208.  Thanks be to God the important anti- abortion legislation did indeed pass a few days later.
Help Tell All Souls about this campaign!  Visit our signup page to register yourself, family and friends so that all may be counted.  Our goal is to build an army of one million future saints praying for our country. The goal is high, but with God, and your help too, all things are possible!
Visit the How to Participate – Three Simple Ways to see how easy it is.  Praying a novena of the Litany of the Saints beginning the first of each month, and a novena of the Chaplet of Mercy for our country is encouraged by all members.
God bless you all and God Bless America!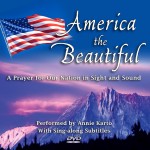 Relive the evening!  America the Beautiful DVD featuring  images of the history, people and landscape of our great nation and beautiful voice of Annie Karto is now available in the DMFA store as well as on YouTube.  Purchase the DVD  Watch on YouTube  Please click the Like button, Share with others and add your Comments.  Thanks!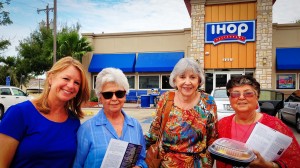 Special thanks to Tallia, Sylvia and Piedad, the 'After Mass Breakfast Club' for treating us to some hearty pancakes in McAllen!