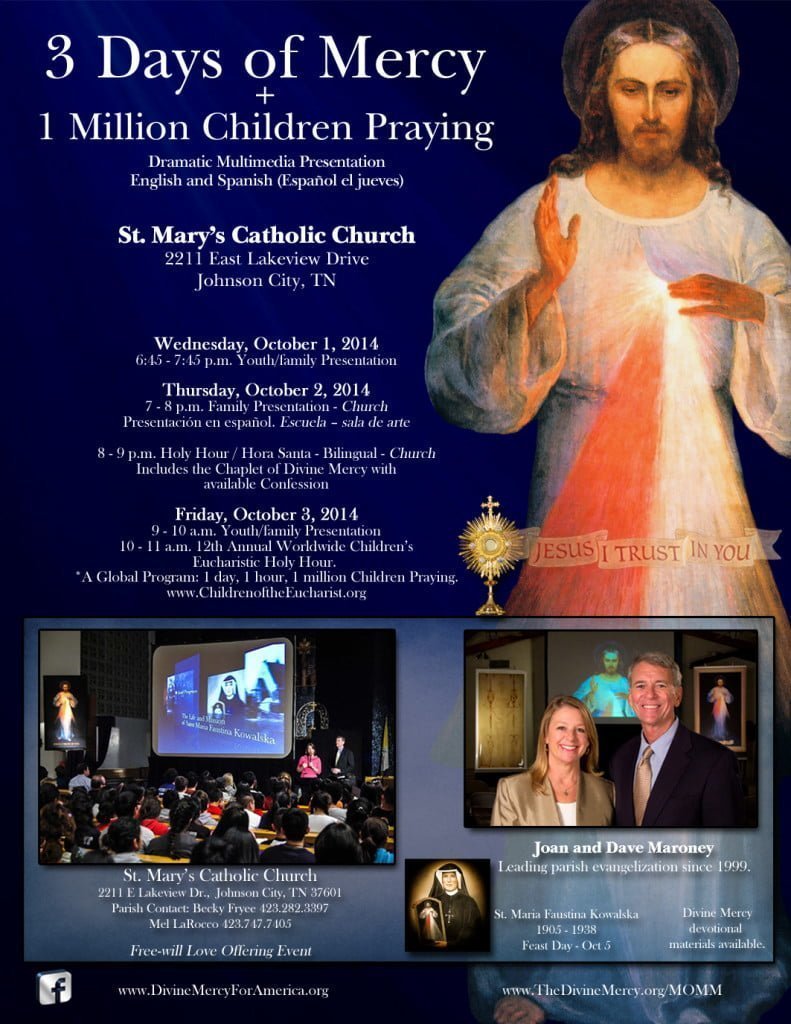 Wednesday, Oct. 1 – Youth Program
6:45-7:45 p.m. Divine Mercy For Young Hearts
Parents are encourage to attend — open to all ages!
Thursday, Oct. 2 – Family Program English & Spanish
7-8 p.m. Tell All Souls About My Mercy – Church
7-8 p.m. Spanish Program – Art Room
8-9 p.m. Bilingual Holy Hour and available Sacrament of Penance – Church
Includes Chaplet of Divine Mercy for the sick and dying, along with other prayers from the Diary of St. Faustina.
Friday, Oct. 3 – Youth & Family Program
9-10 a.m.- Divine Mercy For Young Hearts
THEME FOR THIS YEAR'S HOLY HOUR IS: IMMACULATE HEART OF MARY ~ OUR REFUGE           A 'Global Program'… simple and free…and so spiritually powerful…One Day, One Hour, One Million Children Praying. During this 12th annual Holy Hour, let us UNITE and ENTRUST Millions of our children's precious souls to the love and protection of their Heavenly Mother!
Parish Contacts:
Flyer Download/View/Print:
Divine Mercy devotional materials will be available before and after programs.
Free-will love offering event.
Words from Fr. Kazimierz Chwalek, MIC and Fr. Seraphim Michalenko, MIC about the presentation:
Event product recommendation: