Divine Mercy Event by Mother of Mercy Messengers (MOMM)
National Multimedia Presentation
The Spark from Poland Ignites the World
St. Elizabeth Catholic Church
207 E Walnut St, Robinson, IL 62454
Contact:
Courtney Ferris, DRE courtkferris@yahoo.com 618-554-0839
Father James Flach 618-544-7526
Kathy Staller tjstaller@wildblue.net 618-562-9252
St. Elizabeth Catholic Church is excited to welcome Dave and Joan Maroney of Mother of Mercy Messengers (MOMM) for two powerful evenings of presentations and prayer. Dave and Joan have been traveling as a husband and wife team for 20 years. They have presented the message of Jesus, the Divine Mercy, at more than 800 parishes, schools, and conferences, touching hearts and sparking faith renewal all along the way. We extend a warm invitation for all to join us for what promises to be an inspiring and blessed experience.
Tuesday, April 2
6:00 – 8:00 pm  Presentation and Holy Hour for the USA
Wednesday, April 3
6:30 – 7:45 pm  Religious Ed / Family Program
Exposition of the Blessed Sacrament and the Sacrament of Reconciliation each evening from 5:00 to 5:45 pm.
The Spark from Poland Ignites the World
Take a leap into the mystical life of Saint Faustina Kowalska (1905 – 1938) and her encounters with Jesus in this captivating multimedia presentation that has amazed thousands upon thousands from those unfamiliar with the devotion to the most knowledgeable Divine Mercy devotees.
All are amazed to learn of and see the correlation between the original Divine Mercy Image and the Shroud of Turin, a highlight of MOMM presentations for 20 years.
Holy Hour — always beautiful and the best way to make the most of the gathering. The Holy Hour will include songs, prayers and passages from the Diary of Saint Maria Faustina Kowalska and will conclude with the Chaplet of Divine Mercy.
"Every Christian, especially Catholics, should come to better understand this time of mercy and the opportunities we have been given to save souls by trusting in and embracing the promises of The Divine Mercy." Fr.Seraphim Michalenko, MIC vice postulator for the cause canonization of St Faustina.
"How much the world needs to understand and accept Divine Mercy!" St. John Paul II
Admittance: free will offering.
Divine Mercy materials will be available at the book table.
Click the image below to download the flyer.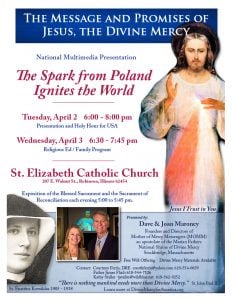 Presenters
MOMM is an apostolate of the Marian Fathers at the National Shrine of The Divine Mercy in Stockbridge, Massachusetts. From their home/office outside of San Antonio, Texas, Dave and Joan have traveled with the Divine Mercy message since 1999 visiting more than 800 parishes, schools, and conferences with their highly acclaimed multimedia presentations sparking spiritual growth and parish renewal all along the way.
In 2012, they launched the Divine Mercy for America Campaign to build a network and movement of faith-filled Americans equipped with an action plan to fight for souls and the country the way Heaven taught St. Faustina to do for her native land.
Click here to invite MOMM to your parish, school, conference, retreat, or prayer group.