Divine Mercy Event by Mother of Mercy Messengers (MOMM)
Come and Celebrate the Feast of Mercy

St. Anthony of Padua
411 E Texas Blvd, Dalhart, TX 79022
For info please call 806-224-4128
On that day the very depths of My tender mercy are open. Jesus to St, Faustina Diary quote 699.
St. Anthony's is excited to welcome Fr. Einer Ochoa from California, Catholic singer/songwriter and renowned speaker Marty Rotella from New Jersey, and Dave & Joan Maroney of Mother of Mercy Messengers (MOMM) from Texas for a parish-wide celebration of the Feast of Mercy. Join us for what promises to be an inspiring all-day event. This Feast can transform the world.
Description:
Sunday, April 28
10 a.m.           Bilingual Mass
11:30 a.m.      Lunch
1 p.m.             Welcome
Exposition of the Blessed Sacrament
1:15 p.m.        Breakout Sessions
3 p.m.             Bilingual Chaplet
3:30 p.m.       Healing Prayer
4:15 p.m.        Benediction
4:30 p.m.       Balloon Lift (weather permitting)
*Adoration and Confessions During Celebration
"It is important that we accept the whole message that comes to us from the word of God on this Second Sunday of Easter, which from now on throughout the Church will be called Divine Mercy Sunday."
– St. John Paul II, April 30, 2000
"How much the world needs to understand and accept Divine Mercy!"
– St. John Paul II
Admittance: free will offering
Divine Mercy materials will be available at the book table.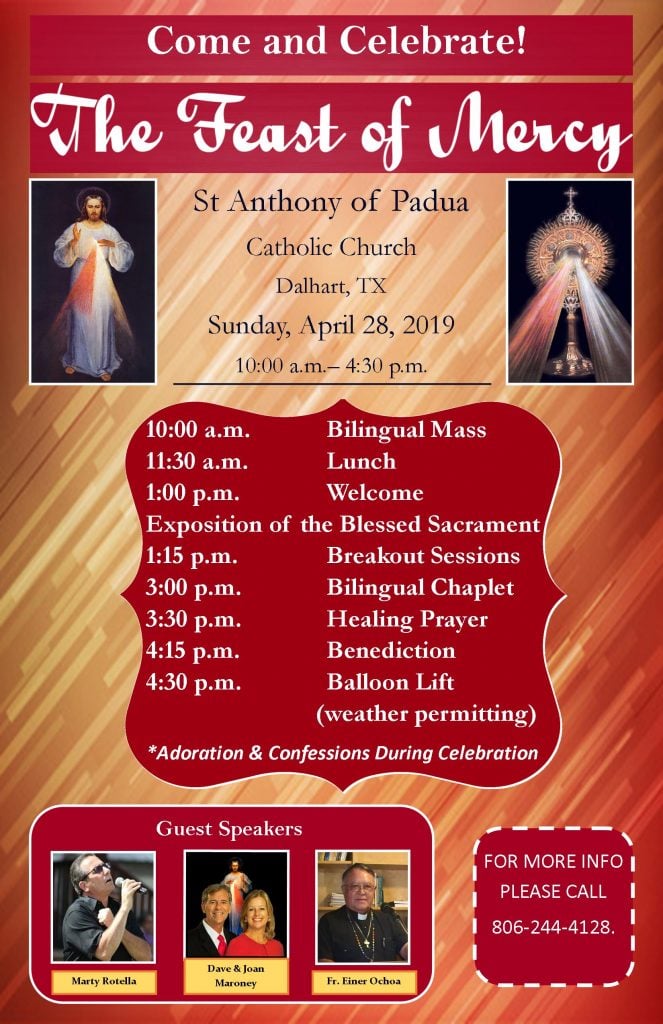 Presenters
MOMM is an apostolate of the Marian Fathers at the National Shrine of The Divine Mercy in Stockbridge, Massachusetts. From their home/office outside of San Antonio, Texas, Dave and Joan have traveled with the Divine Mercy message since 1999 visiting more than 800 parishes, schools, and conferences with their highly acclaimed multimedia presentations sparking spiritual growth and parish renewal all along the way.
In 2012, they launched the Divine Mercy for America Campaign to build a network and movement of faith-filled Americans equipped with an action plan to fight for souls and the country the way Heaven taught St. Faustina to do for her native land.
Click here to invite MOMM to your parish, school, conference, retreat, or prayer group.