Several times Saint Maria Faustina recorded that Jesus and the Mother of God requested prayers and entreaties for her country. She was shown how these efforts not only appeased God's anger, but also resulted in blessings.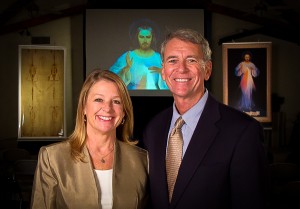 Prompted by the inspirations of the Holy Spirit, in response to the New Evangelization, and in support of the Year of Faith, Divine Mercy for America is an initiative driven to radically increase awareness of and devotion to Jesus, The Divine Mercy, as a sure means of providing great benefit to souls in our country and those throughout "the whole world.
Join us as we (Dave and Joan Maroney) present an important inspiring multi-media production and learn the how and why The Divine Mercy message and devotion given to St. Faustina just a few years prior to the invasion of Poland during World War II is especially important today. Take part in the same prayers and entreaties imploring mercy to be poured out upon us and the whole world during Eucharistic Holy Hour starting at:
Schedule:
7 p.m. Presentation: "Divine Mercy For America"
8 p.m. Eucharistic Adoration: Praying for Our Country as St. Faustina Did for Hers.
Confessions will be available.
Parish Event Contact: Margie Willingham (361) 765-2115
Promotional Material Downloads/View/Print: