Divine Mercy for America Event by Mother of Mercy Messengers
Divine Mercy Retreat
St. Madeleine Catholic Church
17155 Northwest US Hwy 441
High Springs, FL  32643
386-454-2358
https://www.stmadeleinecatholicchurch.com/
Contact:  Filomena Smolenski – Respect Life Coordinator
352-333-0058 – filomenasmolenski@yahoo.com
Lessons from Warsaw

The Connection between the Divine Mercy Revelations and the Life Issue
St. Madeleine Catholic Church is excited to welcome Dave and Joan Maroney for a powerful day of devotion and prayer featuring their nationally acclaimed multimedia presentations.
Take a leap into the mystical life of Saint Faustina Kowalska (1905 – 1938) and her encounters with Jesus. Come and be inspired as Dave and Joan reveal little known aspects of the Divine Mercy apparitions and how the issue of Life was present from it's very beginnings.
All are amazed to learn of and see the correlation between the original Divine Mercy Image and the Shroud of Turin, a highlight of MOMM presentations for 20 years.
Saturday, March 14, 2020
All sessions will be in the church
9 am Morning Session
Lunch
1 pm Afternoon Session
3 pm Chaplet/Conclusion
4:30 pm Regularly scheduled Confessions
5 pm Mass
A love offering will be taken.
Lunch is included.
Divine Mercy materials will be available at the book table.
Sponsored by the St Madeleine Respect Life Apostolate.
"Every Christian, especially Catholics, should come to better understand this time of mercy and the opportunities we have been given to save souls by trusting in and embracing the promises of The Divine Mercy." Fr.Seraphim Michalenko, MIC vice postulator for the cause canonization of St Faustina.
"How much the world needs to understand and accept Divine Mercy!" St. John Paul II
Admittance:  Free Will Offering
Divine Mercy materials will be available at the book table.
Click the image to download the flyer.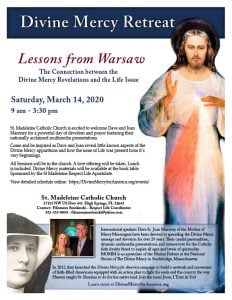 Presenters
International speakers Dave & Joan Maroney of the Mother of Mercy Messengers have been devoted to spreading the Divine Mercy message and devotion for over 20 years. Their candid personalities, dynamic multimedia presentations, and intense love for the Catholic faith freshly blend to inspire all ages and levels of spirituality. MOMM is an apostolate of the Marian Fathers at the National Shrine of The Divine Mercy in Stockbridge, Massachusetts.
Divine Mercy for America
In 2012, they launched the Divine Mercy for America Campaign to build a network and movement of faith-filled Americans equipped with an action plan to fight for souls and the country the way Heaven taught St. Faustina to do for her native land. Join the team!
Jesus, I Trust in You!
Click here to invite MOMM to your parish, school, conference, retreat, or prayer group.