Register online: Click here
Download and Print the Flyer (click the picture)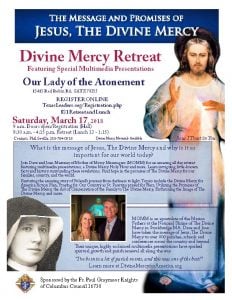 Saturday, Mar 17, 2018
Our Lady of The Atonement Catholic Church
15415 Red Robin Road
San Antonio, TX  78255
Contact:  Phil Sevilla
210-784-0518 cell
[email protected]
Divine Mercy for America Retreat
What is the message of Jesus, The Divine Mercy and why is it so important for our world today? Join Dave and Joan Maroney of Mother of Mercy Messengers (MOMM) for an amazing all day retreat featuring multimedia presentations, a Divine Mercy Holy Hour and much more. Learn intriguing little-known facts and history surrounding these revelations. Find hope in the promises of The Divine Mercy for our families, country, and the world.
Featuring the amazing story of Poland's journey from darkness to light. Topics include the Divine Mercy for America Action Plan, Praying for Our Country as St. Faustina prayed for Hers, Utilizing the Promises of The Divine Mercy, the Act of Consecration of the Family to The Divine Mercy, Enthroning the Image of The Divine Mercy, and more.
9 a.m. Doors open/Registration (Hall)
9:30 a.m – 4:15 p.m. Retreat
4:30 p.m. Vigil Mass
"I've been to a lot of parish events, and this was one of the best!"
Presenters
Dave and Joan Maroney, founders and directors of Mother of Mercy Messengers, an apostolate of the Marian Fathers at the National Shrine of The Divine Mercy in Stockbridge MA, have taken the message of Jesus, The Divine Mercy to over 800 parishes, schools, and conferences across the country and beyond. Their highly acclaimed multimedia presentations have sparked spiritual growth and parish renewal all along the way.
In 2012, they launched the Divine Mercy for America Campaign to build a network and movement of faith-filled Americans equipped with an action plan to fight for souls and the country the way Heaven taught St. Faustina to do for her native land.
To invite MOMM to your parish, school, conference, retreat, or prayer group: Go to Invite Form.