Divine Mercy Event by Mother of Mercy Messengers (MOMM)
Download and Print the Flyer (click the picture)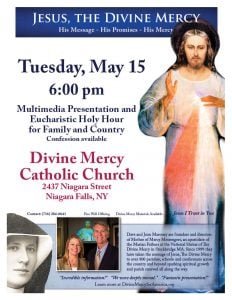 Jesus, the Divine Mercy; His Message – His Promises – His Mercy
Divine Mercy Catholic Church
2437 Niagara Street
Niagara Falls, NY
Tuesday, May 15, 2018
Contact: (716) 284-6641
 6:00 p.m. Multimedia Presentation and Eucharistic Holy Hour for Family and Country
Confession available
Divine Mercy materials will be available at the book table.
Presenters
MOMM is an apostolate of the Marian Fathers at the National Shrine of The Divine Mercy in Stockbridge MA. Since 1999 Dave and Joan have taken the message of Jesus, The Divine Mercy to over 800 parishes, schools, and conferences across the country and beyond sparking spiritual growth and parish renewal all along the way.
In 2012, they launched the Divine Mercy for America Campaign to build a network and movement of faith-filled Americans equipped with an Action Plan to fight for souls and the country the way Heaven taught St. Faustina to do for her native land.
To invite MOMM to your parish, school, conference, retreat, or prayer group: Go to Invite Form.