Dave and Joan Maroney hit the airwaves as guests on "Living Eucharist" on Radio Maria today.  Take part in the hour long program by listening on the radio or via your computer, or cell phone (app required) as they share insights and inspiration about the power of the Holy Eucharist in nurturing personal holiness, the most important part of the Divine Mercy for America Campaign, pray for youth of the world in the advent of World Youth Day and invoke the intercession of St. Mary Magdalene, on her feast day!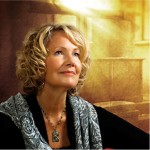 Annie Karto (www.anniekarto.com) Catholic singer, songwriter & world traveled evangelist, will guest host today's program, standing in for Kathleen Beckman.  She will share her ideas about the importance of the Divine Mercy for America Campaign for the re-Christianizaiton of our nation.  Also catch a taste of Annie's beautiful voice as the release of  America the Beautiful – A Prayer for Our Nation in Sight and Sound DVD is announced.
Listeners are encourage to dial in at 1-866-333-6279 for comments & questions, and/or provide your testimony about a Mother of Mercy Messengers event experience, the Divine Mercy for America Campaign, or your love for the Holy Eucharist, the greatest source of Divine Mercy.
Program Hour: 3pm PT / 4pm MT / 5pm CT / 6pm ET     Website: www.radiomaria.us