What a blessing it was to be at the National Shrine of The Divine Mercy for Mercy Sunday weekend 2013.  Teammates came from Texas, Florida, and New Jersey to help share the Divine Mercy for America campaign with thousands of pilgrims who came from all over the east coast and many from Canada too. Thanks to the support of the Provincial Superior Fr. Kazimierz Chwalek, MIC, a 40 x 40 tent just outside the Shrine was allocated for this evangelization effort.
Father Kaz, who was born and raised in Poland, has been very enthusiastic about this initiative and was eager to have the message brought to the Shrine for Mercy Sunday weekend.  "This is an exciting perspective on the Divine Mercy message, " said Fr. Kaz.  "It makes St. Faustina's revelations relative to today's struggles in our country and throughout the world.  It reminds people of the power of this message and how each one of us can make a difference."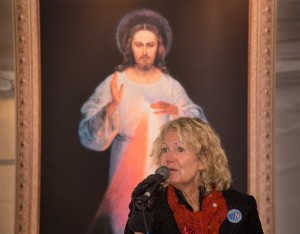 Throughout Saturday and Sunday pilgrims were informed, inspired and entertained in both English and Spanish.  The music of singer-songwriter Annie Karto could be heard drifting sweetly across the grounds and lured over many a soul.  Once inside the Image of The Divine Mercy became the focus and many came forth to venerate the Lord and to pray.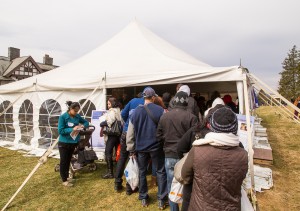 As word spread about this wonderful space and what was being offered crowds began to gather and lines formed to enter.  Everyone wanted to know more about this program and how they could participate.  Divine Mercy for America hit home with those from the U.S., but also with the Canadians, and the many,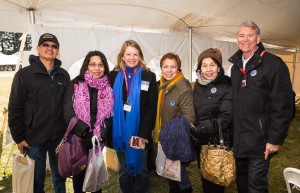 many Spanish speaking pilgrims, natives of South and Central America.  This message was for one and all, young and old, rich and poor.  Many signed commitment forms to pray for their country, to strive for personal holiness, and to spread the message of God's love and mercy.  It was a long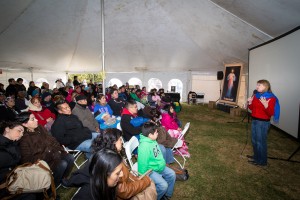 two days, and the team barely had a chance to sit down or grab a bite to eat.  But, it was well worth every bit of the effort. This was Divine Mercy Sunday.  This was a time of extra-ordinary grace as Jesus told St. Faustina,  "My daughter, tell the whole world about My inconceivable  mercy. I desire that the Feast of Mercy be a refuge and shelter for all souls, and especially for poor sinners. On that day the very
depths of My tender mercy are open. I pour out a whole ocean of graces upon those souls who approach the Fount of My Mercy. On that day all the divine floodgates through which graces flow are opened.  The Feast of Mercy emerged from My very depths of tenderness." (Diary, 699)
Thank you Jesus.  Thank you National Shrine of The Divine Mercy.  God bless you, and God bless America.