As the Executive Director of the Divine Mercy Support Net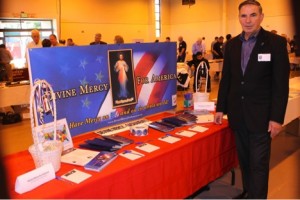 work of Sacramento California John Doering is no stranger to Divine Mercy initiatives.  But while attending a Divine Mercy Leaders Conference sponsored by the Diocese of Oakland John was struck by the presentation made by Dave and Joan Maroney about the Divine Mercy For America campaign.  "It suddenly made complete sense that we in America need to come together in prayer for our nation."
John took the message to heart and not only personally joined the campaign but also adopted it as part of the mission of his organization.  He began to actively recruit members but his efforts didn't stop there.  With the help of the Divine Mercy for America home team he produced his own graphics and signs and set out to take the message to California in a big way.
The first stop in his plan was to arrange for a booth at the 2013 Napa Valley Catholic Men's Conference.  "I had a great experience at Napa setting up the table for the first time and engaging passer-bys in the campaign."
This is an outstanding example of how the Divine Mercy for America campaign grabs people.
"At the conclusion of the presentation in Oakland I was brought to tears when we sang America the Beautiful.  It hit me so hard that I suggested the words of the song should be added to the video and that it should be made available to the public.  We now look forward to using it at our events."
This music video was  produced by Annie Karto, a Catholic singer/songwriter who is also promoting this campaign in a big way.  It will be available soon through our store and on YouTube.  Thanks John for all your help and suggestions.  Keep up the good work.  God bless you and God bless America!