"My daughter, be diligent in writing down every sentence I tell you concerning My mercy, because this is meant for a great number of souls who will profit from it. -Jesus to St." -Jesus to Saint Maria Faustina Kowalska (Diary entry 1142)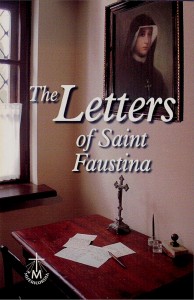 Product Code: LOSF
Paperback: 260 pages
Size: 4.75 x 7.5 inches
Print: Large
Preface from the book:
Metropolitan of Cracow
We have before us the letters of Saint Faustina. We pick them up and open them, just as we open envelopes; for, although they were not originally addressed to us, they constitute a testimony about Jesus. Let the number of friends who, while standing in the doorway, participate in the encounter between Faustina and her Beloved be a numerous as possible. Just as the Diary was written in the most ordinary conditions and situations of religious life in different convents of the Congregations, so do the present Letters, through various life situations, clearly reveal the story of Saint Faustina's soul – and the presence of her Beloved.
For those of us who have read the Diary, the presence of Jesus is very obvious here (the way it must have been to Sr. Faustina's confessors who had no doubt that "it was Jesus"), but in those days, among Sister Faustina's contemporaries, there were many suspicions and doubts… Let us not miss this marvelous opportunity which is given to us, the most ordinary life situations, thanks to these letters: the Lord and the Beloved stand at our door and knocks! Jesus will open His Heart to everyone who believes and trusts in Him.
Let us receive this gift, the gift of her letters, from Saint Faustina and let us allow Jesus to draw onto the paths of the Divine Mercy
Cracow, 18th January, 2005
+Franciszek Cardinal Macharski