Divine Mercy Event by Mother of Mercy Messengers (MOMM)
An Evening of Prayer
Spiritual Battle for One Nation Under God and the Cleansing and Purification of the Church
Our Lady of the Atonement Catholic Church
15415 Red Robin Rd, San Antonio, TX 78255
Contact:  Phil Sevilla  210-784-0518  philsevilla@att.net
The battle has been revealed. Our Lady has a plan for the purity of the USA. It is now time for intense prayer. Come learn about this approved apparition, what it can mean for our country, and to join in prayer for our priests, Church, nation, and world.
Friday, February 22
7 p.m.
Exposition
The Chaplet of Divine Mercy
Talk by Dave & Joan Maroney: Our Lady of America
Holy Hour of Prayer led by Dave & Joan
Confession available
Benediction
Free will offering, Divine Mercy materials will be available.
"Every Christian, especially Catholics, should come to better understand this time of mercy and the opportunities we have been given to save souls by trusting in and embracing the promises of The Divine Mercy." Fr.Seraphim Michalenko, MIC vice postulator for the cause canonization of St Faustina.
"How much the world needs to understand and accept Divine Mercy!" St. John Paul II
To download the flyer click the image.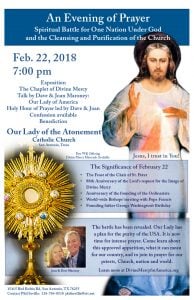 Presenters
MOMM is an apostolate of the Marian Fathers at the National Shrine of The Divine Mercy in Stockbridge, Massachusetts. Dave & Joan have been traveling as a husband and wife team for twenty years and have presented the message of Jesus, the Divine Mercy in a variety of multimedia presentations at more than 800 parishes, schools, and conferences touching hearts and sparking faith renewal all along the way.
In 2012, they launched the Divine Mercy for America Campaign to build a network and movement of faith-filled Americans equipped with an action plan to fight for souls and the country the way Heaven taught St. Faustina to do for her native land.
Click here to invite MOMM to your parish, school, conference, retreat, or prayer group.