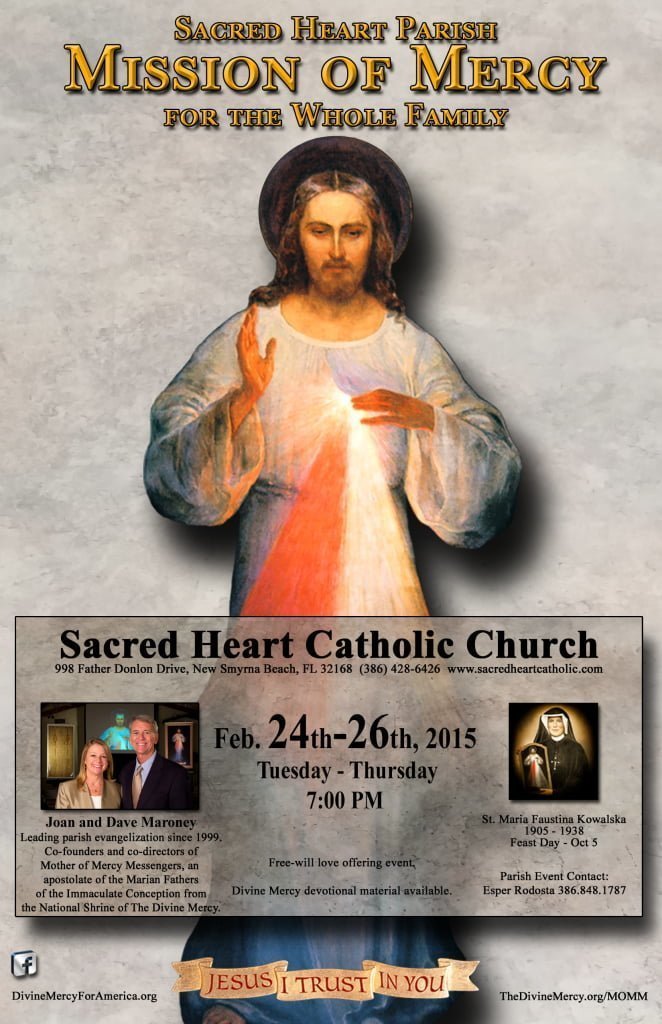 DAY 1 TUESDAY, FEBRUARY 24
Parish program:
7-8:10 p.m. The Spark – A pictorial and dramatic historical-introduction to the Divine Mercy message and devotion.
DAY 2 WEDNESDAY, FEBRUARY 25
School Program:
9-10 a.m. DIVINE MERCY FOR YOUNG HEARTS Interactive multimedia presentation that uses the captivating story of Saint Faustina to highlight the greatest riches of the Catholic faith. Illuminating for adults, too.
Parish Program:
7-8 p.m. TELL ALL SOULS ABOUT MY MERCY This dramatic flagship program dives into the Divine Mercy message as it brings the Diary of St. Faustina to life and draws souls to the Sacraments.
8-9 p.m. Holy Hour with Jesus, The Divine Mercy. Confession available.
DAY 3 THURSDAY, FEBRUARY 26
Parish Program:
7-8 p.m. DIVINE MERCY FOR AMERICA – Multimedia presentation that shows why Divine Mercy revelations of St. Faustina are of supreme importance to the United States and the whole world today. Discover intriguing and little-known facts about the message that's transforming so many lives.
8-9 p.m. Holy Hour with Jesus, The Divine Mercy.
Parish Contact:
Esper Rodosta  386.848.1787
Flyer Download/View/Print:
Divine Mercy devotional materials will be available before and after programs.
Free-will love offering event.
Words from Fr. Kazimierz Chwalek, MIC, and Fr. Seraphim Michalenko, MIC, about the presentation on Day 2:
Event product recommendation: