Divine Mercy Event by Mother of Mercy Messengers (MOMM)
The Divine Mercy Revelations and the Life Issue
Our Lady's Center Marian Shrine
3301 Rogers Ave
Ellicott City, MD 21043
Contact:  Our Lady's Center Office (410) 461-5066 email@ourladyscenter.net
Our Lady's Center is excited to welcome back Dave & Joan Maroney of Mother of Mercy Messengers (MOMM) for another inspiring and insightful Divine Mercy presentation. This time Dave & Joan will be discussing the connection between the Divine Mercy revelations and abortion. There is a very strong but little-known connection to this sin that Saint Faustina called "the most grievous crime of all." Come and hear this fascinating information and how it relates to our country today.
Wednesday, January 23
12 p.m. Mass
1 p.m. The Connection Between the Divine Mercy Revelations and the Life Issue
Refreshments to Follow
Admittance fee – free will offering. Divine Mercy materials will be available.
"How much the world needs to understand and accept Divine Mercy!" St. John Paul II
To download the flyer click the image.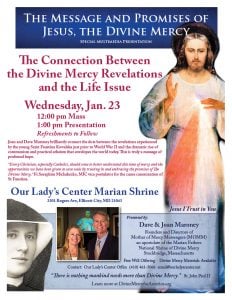 Presenters
MOMM is an apostolate of the Marian Fathers at the National Shrine of The Divine Mercy in Stockbridge, Massachusetts. Dave & Joan have been traveling as a husband and wife team for twenty years and have presented the message of Jesus, the Divine Mercy in a variety of multimedia presentations at more than 800 parishes, schools, and conferences touching hearts and sparking faith renewal all along the way.
In 2012, they launched the Divine Mercy for America Campaign to build a network and movement of faith-filled Americans equipped with an action plan to fight for souls and the country the way Heaven taught St. Faustina to do for her native land.
Click here to invite MOMM to your parish, school, conference, retreat, or prayer group.